Press Sample
*This product is Cruelty Free
♥
Today is Day 3 of 4 of fun with The Nail Junkie's newest Neon Shimmer Jelly Collection leading up to the re-stock on Thursday, May 16, 2013.
If you haven't seen the Neon Shimmer Jellies yet, pull up a chair and get your wishlist out!
*HINT: Stay through the end of the post to see how you can enter the giveaway to WIN two polishes of your choice from this collection! Open 'til May 31, 2013.
The Nail Junkie Neon Shimmer Jelly Collection
Last year, Aleta, creator of The Nail Junkie polishes, released a few of her shimmer jellies. One of which made my Best of 2012 list - Grape. You can see my post on that the others by clicking on individual pic in the photo below.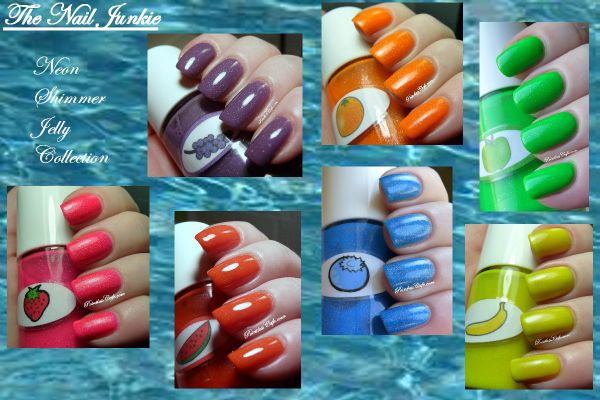 ---------------------------------------------------------------------------------------------------
And now...Banana!
Banana
is
"
a jelly polish in the brightest neon yellow. It's loaded with holographic shimmer and can be worn as a build-able squishy jelly or you can layer it over glitters for a colorful "jelly sandwich". This shade is from last year's collection. No changes were made."
I used 3 light coats of this one alone and am showing you how it looks with and without top coat. No issues to report at all. The formula and application were perfect. I had a difficult time capturing the true color because it's really bright! The natural lighting photos are the most color accurate.
First, with no top coat...
The Nail Junkie Banana







Continued after the jump...
The Nail Junkie Banana - indirect natural lighting
The Nail Junkie Banana
The Nail Junkie Banana - natural lighting - shade
The Nail Junkie Banana
And with top coat...
The Nail Junkie Banana
The Nail Junkie Banana
----------------------------------------------------------------------------------------
What do you think? This is one of those colors I love, but it hates my skin tone. Those of you who can wear yellows, I'm so jealous! This is a great yellow. Have you tried any polishes from the Nail Junkie yet? Which is your favorite of the Neon Shimmer Jelly Collection so far?
The Nail Junkie polishes are available at
The Nail Junkie Etsy Store here
. Currently, the shelves are pretty bare, but she restocks on Thursday, May 16th!
Also, you definitely need to follow The Nail Junkie blog

and

Facebook page

for updates and announcements.
My polishes are $10 each and include FREE SHIPPING AND A COMPLIMENTARY GIFT!

International orders ship for a low flat rate based on your region, this means: buy all the polishes you like, pay only one low fee to ship.

Custom printed labels are available for all polishes and are listed in my shop. Add names, pictures or whatever you'd like for only $2 per bottle.

All orders ship via USPS WITHIN 24 HOURS OF PAYMENT

All of my ingredients are 3 Free and Cruelty Free and I use only stainless steel mixing balls.

I stand behind my products 100%. If for any reason you are not satisfied with your purchase or have questions and concerns, please contact me immediately.

Also, as always, if you order 2 or more bottles of my polish you will receive a 5 gram jar of my very own hypoallergenic, fragrance free, ultra healing "Cutie Cuticle Balm". Due to rave reviews this product is also sold on it's own in both a 5g and larger 10g jar.
The Nail Junkie is giving away two polishes of your choice from the Neon Shimmer Jelly Collection -
ENTER HERE
. Scroll to the end of her post for the Rafflecopter widget - Open until May 31st, 2013!
♥
If you enjoyed this post, please take a second to "like" it! Thanks!
.